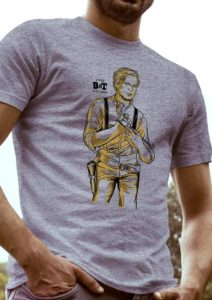 T-shirt Trinity
25,00€
The best way to diffuse a message is wear it!
A t-shirt that comes from the many requests received during the live events.
The design comes from a dialogue with Terence Hill, who has indicated it as a favorite for print one t-shirt.
We are honored to transfer the image of Trinity from the paper to the cloth.
Our mission is to share with passion the simplicity of life, transmitted by the famous movies interpreted by the couple Terence Hill & Bud Spencer.
So we worked with the world of Serigraphy.
An exciting artisanal process, where there's need to study the image again from the beginning.
We worked with the experience of professionals artisans.
'Cause a design that changes support must find again its power.

This is an artistic creation entirely made in Italy produced with care and attention, to ensure the highest quality and durability over time.
Come in the prairie sun.
Wear your myth!
Woman (measures in cm)
Man (measures in cm)
Choose Gender and Size to proceed with the purchase!

B&T product information sheet

 🚚🏃 Delivery
Free with a minumum purchase of €69
24H in tutta Italia - €5,90
48H in tutta Europa - €13,50
👤✅ Security
Protection and confidentiality of your contact and shipment data
Assistance
Whatever you need +39 351 66.89.552
Chat H24 - 7/7 Whatsapp | Telegram
or write us at info@btstylepictures.com
Description
Details

140 g/m2
100% cotton (organic), comb and ring-spun
Sport Grey 90% cotton, 10% viscose
Single Jersey
Thin rib neckline
Shoulder to shoulder tape
Double stitching on sleeves and base
Side seams
Smooth and uniform surface that makes the print sharp and brilliant
Size Woman XS, S, M, L, XL, 2XL
Size Man S, M, L, XL, 2XL, 3XL
Edition
This t-shirt is produced by B&T Style Pictures, made with passion by Mark Serigrafia.
Shipment
Within 7/14 giorni from the the order, in Italiy and Europe.
Up to 1Kg fixed rate viewable from the checkout of the cart.
For other weights and countries, costs will be calculated depending on the case.
If you have special requests please contact us through our email address info@btstylepictures.com, or by filling in the appropriate form on the page Contact.